In addition to reflecting on the influence women have had on history for the entire month of March, we also celebrate equality and equity between genders through International Women's Day. The day of celebration and month of recognition are not meant to lift one gender above the other, but rather encourage a conversation about the contributions that were once overlooked. As our society grows and learns, we work to make sure all voices are heard, all stories are told, and most importantly, all people are valued. So, what is the history behind International Women's Day? How does it relate to Women's History Month? And who are some of the women supporting the mission at The Baltimore Station?
Day Vs. Month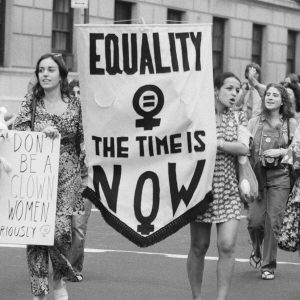 March 8th is reserved each year across the globe as a day for encouraging everyone to stand up for women's rights and gender equality. The first celebration took place on May 3rd, 1908, in Chicago; dedicated to "the female workers' causes", this occasion brought together an audience of 1,500 women who demanded economic and political equality. As word of the celebration grew, so did its sphere of influence. The next year, a similar celebration was held in New York, and it only grew from there as European socialists began congregating for a celebration of women's rights.
Advocate for women's rights, Clara Zetkin, had the idea to turn these sporadic marches for equality into a single international day of recognition. She suggested the idea in 1910 at an International Conference of Working Women in Copenhagen, Denmark. There were 100 women there, from 17 countries, and they agreed on her suggestion unanimously. The United Nations made everything official and started celebrating the day in 1975. . Each year a new theme is focused on. The first theme (in 1996) was "Celebrating the Past, Planning for the Future". This year the United Nations has chosen the theme "DigitALL: Innovation and technology for gender equality" to encourage women in technology fostering greater solutions for all.
Women's History Month is a United States observance of the economic, political and social contributions of women. It started as a celebration during the week of March 8th, 1978 in Santa Rosa, California as a means of educating community members on the stories of women in history that are all too often forgotten from history books and classroom discussions. This idea of celebrating and acknowledging the contributions of women grew into a movement for further equality leading to a recognition of Women's History Week in 1978. President Jimmy Carter made the first presidential declaration of the week in 1980 and it only grew from there. What started off as National Women's Day blossomed into an entire month of recognition in 1987 when congress passed Public Law 100-9, designating March as "Women's History Month."
Women of The Baltimore Station
Although The Baltimore Station serves a population of men, the organization was actually started by a group of women looking to better their Federal Hill community by passing out blankets and sandwiches to those in need. As The Baltimore Station grew, so did the diverse voices that make our mission possible. Today, The Baltimore Station has women in every department, several in leadership roles, shaping the program and providing hope to the men we serve. So, who are some of the women of The Baltimore Station?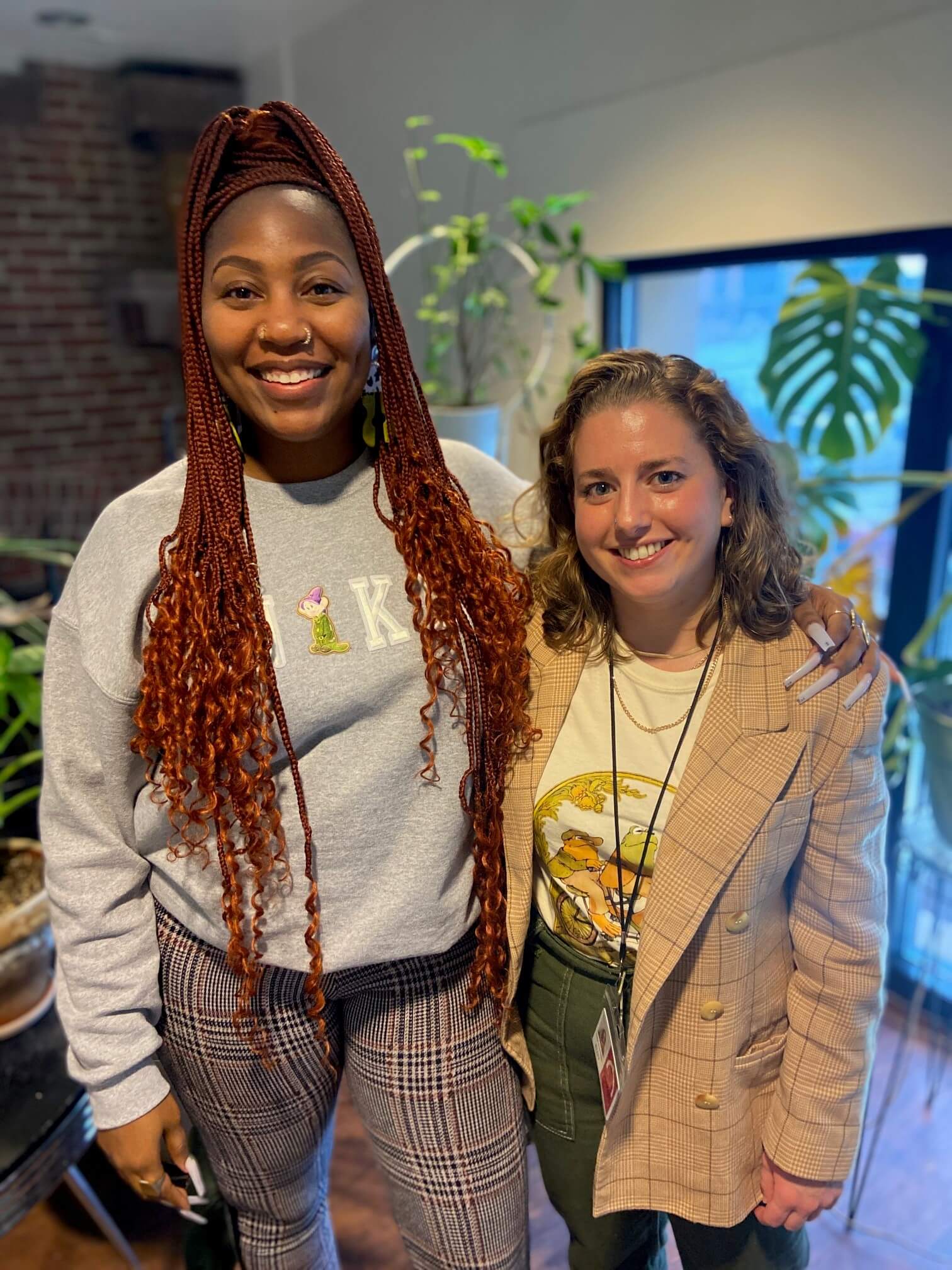 Meet Case Managers: Stephanie Hebb and Tierra Henry
As part of our clinical team, both women are responsible for helping clients navigate their journey to self-sufficiency from when they first start our program to the day they graduate (often continuing the encouragement thereafter). When asked what her greatest accomplishment is, Tierra Henry said "What I feel accomplished about is my advocacy. It takes a lot to advocate for yourself and others. It isn't easy, but I get it done." Both are encouraged to integrate different therapeutic activities in their weekly groups by leading the men through art projects, arboretum walks, poetry reflections, and writing exercises.
From our Kitchen Team we have Yolanda Peters and Patricia Paul
Both women have been working at The Baltimore Station to keep our kitchen standards high, our volunteers involved, and our clients valued. Patricia has a true passion for cooking saying, "it is the first thing I think about when waking up and the last thing I think of before going to bed". Yolanda is our newest kitchen member but has already made a name for herself with her welcoming attitude and kindness.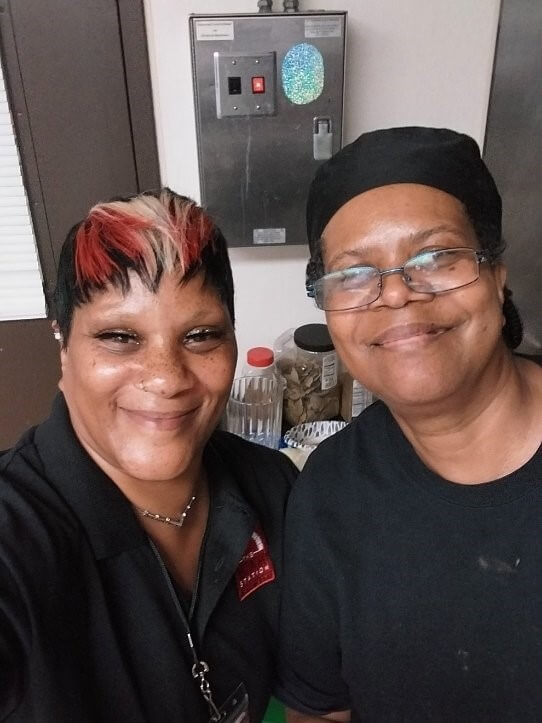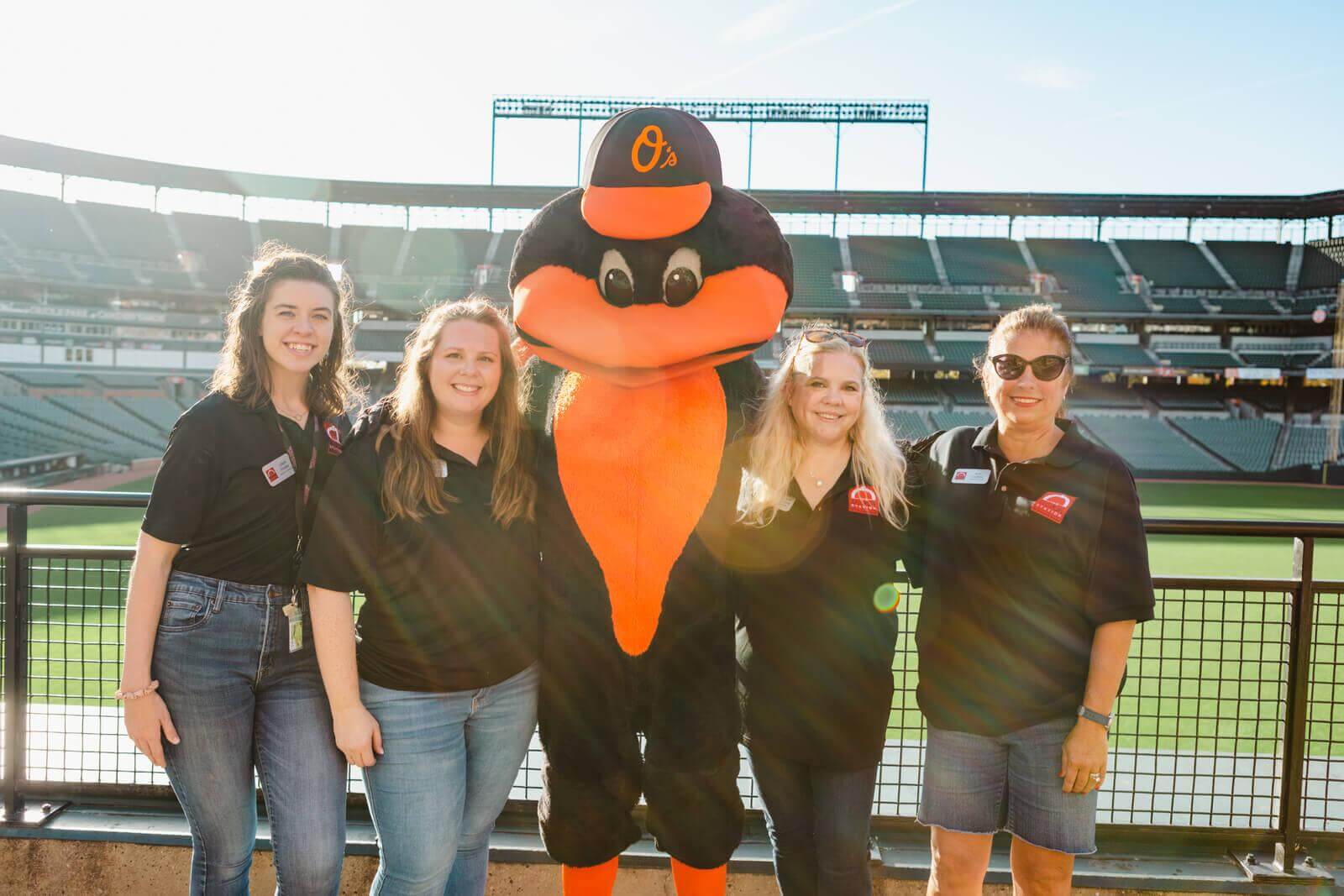 Next, We Have the Female Run Development Team
This team is responsible for connecting The Baltimore Station to the greater Baltimore community and beyond. From volunteer opportunities to events and raising critical funds for our programs, getting the word out about our mission is their specialty. Deputy Director, Kim Callari, has worked with The Baltimore Station for over 12 years and is proud to see the increase in female voices across the entire organization. "When I first started at The Station, there were only a handful of women staff. Today, women make up the majority of our staff. Each of us contribute to the organization in our own special way, but always keeping our mission and the men we serve as our top priority".
Photo: Lilly Frazier (Volunteer Coordinator), Alexandra Saraceno (Donor Operations Manager), Rachael Broderick (Event Manager), and Kim Callari (Deputy Director)
Tyra Jefferson works with our new residents as the Intake Coordinator
Tyra Jefferson is one of the first people to welcome new clients into our program. Making sure they are comfortable and understand the paperwork that needs to be filled out before we can get them the help they need. The first day anywhere can be scary, especially for our clients, but Tyra's ability to welcome all, is a true asset to our team.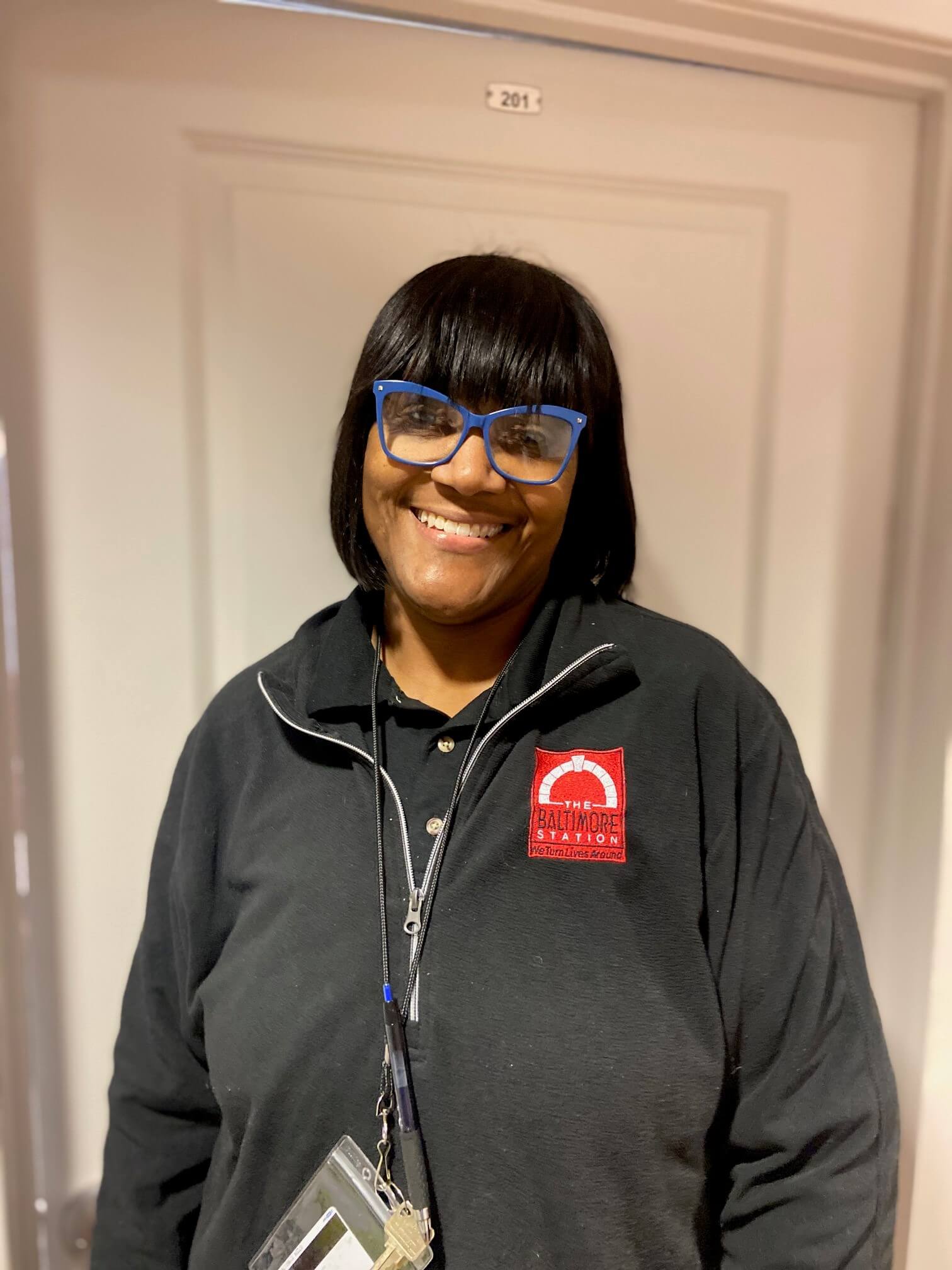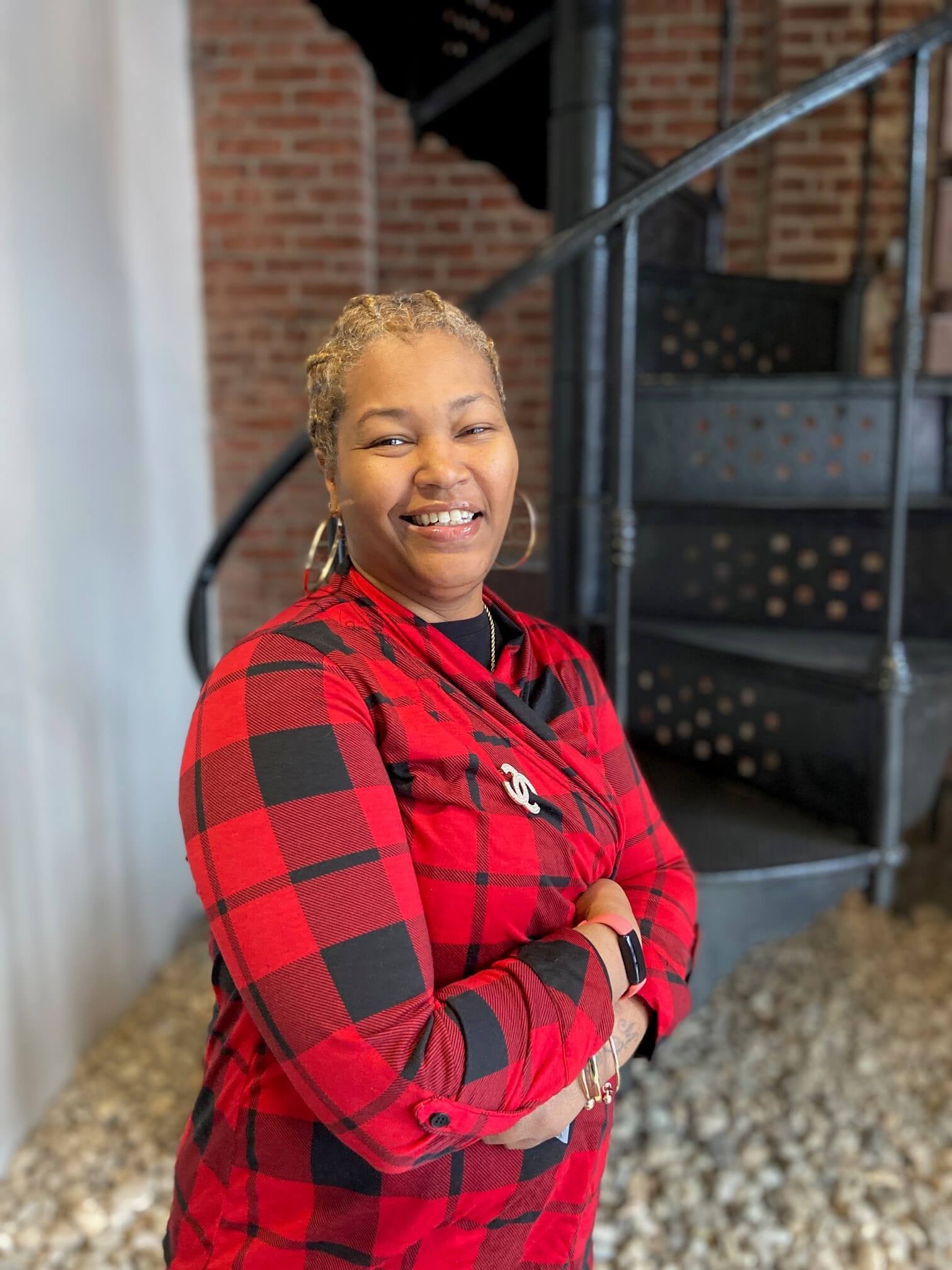 Finally, We Introduce Menefee Telethia (MS. T) One of Our Residential Attendants
Telethia (Ms. T) is a Residential Attendant (RA) and is part of the department that keeps The Baltimore Station going day to day. She is the first hello when anyone comes through the door and the last goodbye to wish them well. Our RA's work hard to keep everyone safe and make sure no one is forgotten. You will often see Telethia taking time to check on our clients to make sure they are doing okay.