Here at The Baltimore Station, we are proud to announce we have been chosen as a featured non-profit for the Target Circle campaign! What does this mean exactly? Well to start, it means Target's Cause Team believes in our mission as much as we do and believes that the work we are doing as an organization is impactful to our community. But it also means that our supporters, you, can give back in a way that costs you nothing and takes about 60 seconds!
What is Target Circle?
Target Circle is a rewards program created for everyday Target shoppers. The more you shop, the more rewards you get back. But it also allows you to connect with non-profits in your community. Target Circle gives you votes on every purchase you make so you can have a say in how Target gives back to the community. Each quarter, Target puts out a new list of local non-profit organizations to vote on based on where your home location is set to. So, if you are here in Maryland, you know the list is filled with organizations that all give back to the Maryland community.
Check out Target's video here to learn some additional information!
How does Target Circle give back to The Baltimore Station?
Target's commitment to serving the communities where they operate goes way back… all the way back to 1946. They keep that promise alive through their dedication to serving new generations of families today.
Part of being a good neighbor is supporting communities through local giving and Target wants to invite guests to guide their giving as part of the Target experience. So now through March 31st, you can log into your Target Circle app and send votes to The Baltimore Station as your chosen non-profit. As each voting period wraps, Target awards grants to the nonprofits based on the percentage of votes they receive.
Every vote we get correlates to a greater donation to our organization. That means if you have accumulated 20 votes through your everyday shopping, we could be 20 votes closer to a donation for essential needs to The Station.
How do I cast my votes?
It's easy!! All you need is a Target Circle account, and you are on your way to making a difference for homeless veterans. If you already have an account, here are the steps to sending your votes our way from a web browser:
*App will look a little different, scroll down to see a video on how to submit votes through the app*
Step 1: Choose "My Target" on the Target website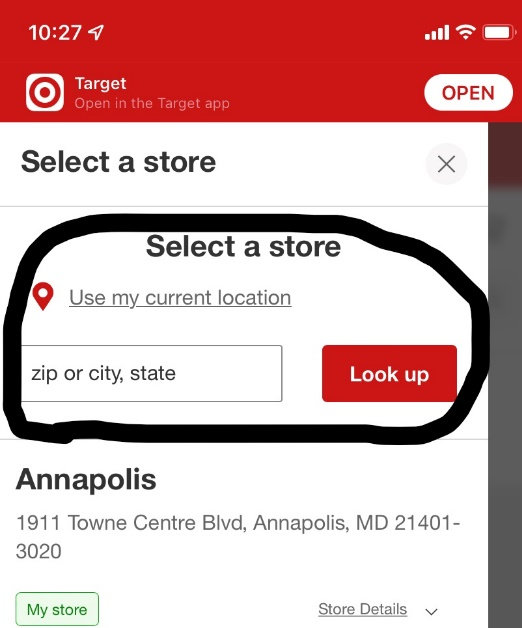 The Baltimore Station was chosen to be a part of the statewide campaign so you may need to change your preferred Target location so our organization will appear. Don't worry, this only takes a moment and won't change your shopping experience, points, or future rewards. Just change your preferred Target to one of the following locations, and our organization will be an option for you to vote on:
| | | |
| --- | --- | --- |
| Annapolis | MD | 21401 |
| Bowie | MD | 20716 |
| Brandywine | MD | 20613 |
| Easton | MD | 21601 |
| Frederick | MD | 21704 |
| Gaithersburg | MD | 20878 |
| Germantown | MD | 20876 |
| Hagerstown | MD | 21740 |
| La Plata | MD | 20646 |
| California | MD | 20619 |
| Salisbury | MD | 21804 |
| Waldorf | MD | 20603 |
| Westminster | MD | 21157 |
Step 2: Tap on "Target Circle™"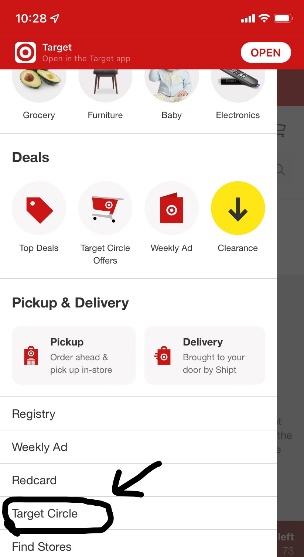 Step 3: Select "Vote for nonprofits"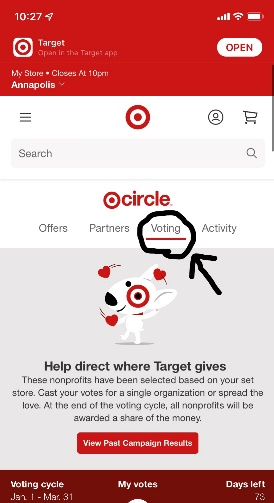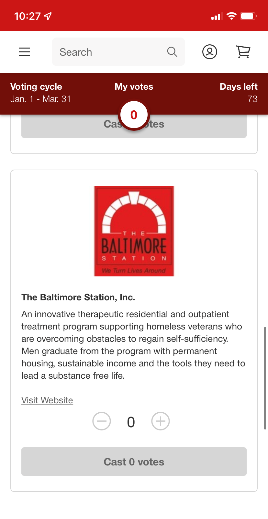 Here is a video of how to do it from the app:
It's that easy and you are on your way to making a difference at The Baltimore Station. We need everyone's help, so get those votes in. Tell your mom, your neighbor, your colleagues and really everyone you know! Feel free to share how many votes you cast for us in an email or tag The Baltimore Station in a social media post for a special thank you shout-out.
Thank you for your support!