Formally known as a loaded march, a ruck march can be very beneficial to bringing a group together in both a physically and mentally healthy way. The U.S. Army uses a ruck march as a core military skill; challenging recruits to not only finish 12 miles in three (3) hours but to do it with a weighted pack and rifle on their back. Although there is some variation in the weight that is carried, it is typical for rucksacks to be at least 35 pounds and can be as much as 70 pounds.
These marches are a test of physical ability and mental stability. They usually take place on a well-marked and fairly flat path. The challenge is not meant to be intellectually complicated, rather an exercise on the physical challenge of getting from point A to point B with all essentials on your back. Since 1943, supervised ruck marches have been a key part of infantry testing and successful completion of the ruck march awarded recruits with an Expert Infantryman Badge (EIB). Although many recruits can do a ruck march at the same time, they are each usually working to finish in the best time they can. However, what started out as a military standard, is now a tradition shared with the civilian world.
Are Ruck Marches Only for the Military?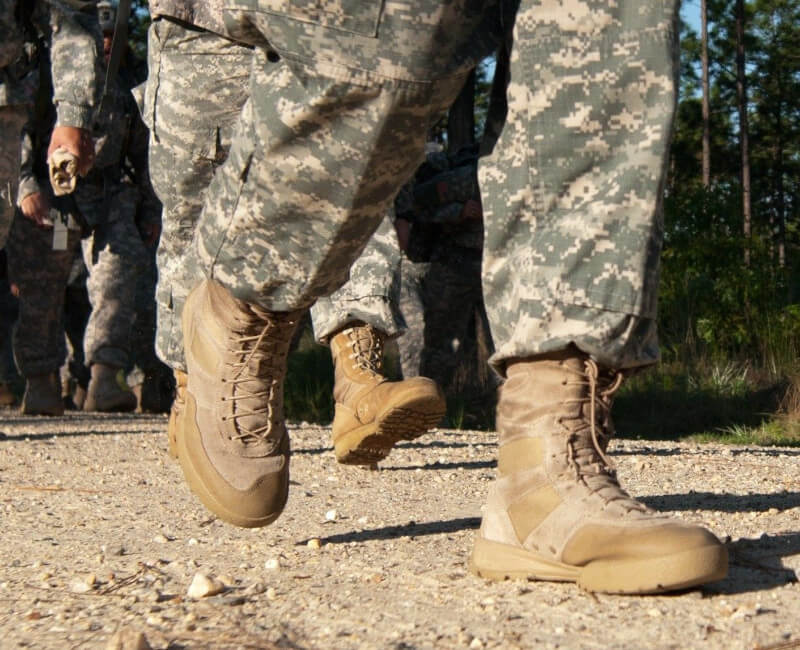 Ruck Marches are still used in military context but have been modified to allow civilians, veterans, and active-duty members the ability to connect and raise awareness for the weight our service members often carry after their return from combat. Organizations and military affinity groups often hold ruck marches as a way to raise money to better the lives of veterans struggling to overcome obstacles like homelessness, mental health issues, and substance abuse. These marches celebrate comradery and working as a team to accomplish the goal.
A ruck march event usually takes a different form, focusing more on team building and reflection rather than a challenge of physical ability and will. Although they are still challenging, a ruck march event is usually shorter, maybe only three (3) miles instead of the military standard of 12 and the "ruck" is passed from person to person. They can also be done entirely as a group, with everyone going at the same pace. Different organizations hold ruck marches to support their military community all across the country. For many, it is a way of giving back to veterans and to better understand a key part of their training.
What Should Be Considered when Getting Ready for a Ruck March?
Considering your ruck pack: Any good ruck will balance durability, comfort, and function
Invest in good footwear and make sure to break it in before your march
Keep the weight close to your spine if possible
Stand up straight and keep your core engaged
Wool socks: they will help keep moisture out and blisters away
Stay hydrated and bring snacks
Get a good night of quality sleep the night before
Keep it fun and bring a buddy!
Ruck March in Baltimore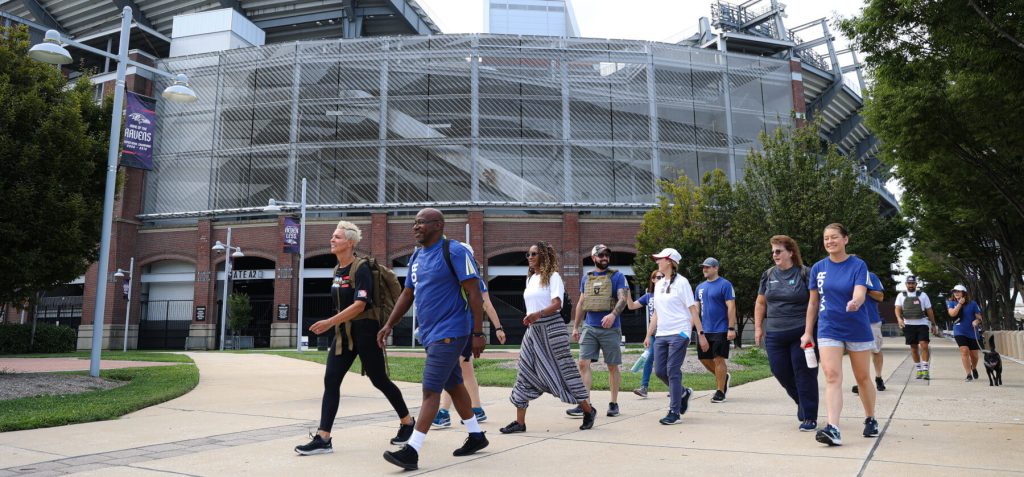 Back in late August, The Baltimore Station was selected as a starting point for T.Rowe Price VALOR's 2022 ruck march to support Stop Soldier Suicide. T. Rowe Price's VALOR group is "an associate-led business resource group (BRG) that honors the contributions, strengths, and experiences of veterans and their families". Their ruck march, which started in 2020 as a way for VALOR members to connect and support the military community during the pandemic, is now a community engagement activity to improve mental health through increased physical activity and further support Stop Soldier Suicide.
We were so honored and excited to have The Baltimore Station be the start and end point for this event and even invited to join in the ruck march. When we spoke with the men in our program about the upcoming ruck march, almost every hand when up when asked if they were familiar with the term. Everyone walked the miles together, passing the rucksack from person to person and enjoying not only the beautiful weather but also the meaningful conversations being had. Coming together to complete a physical task is a great way to bond a group, and when you're raising awareness and money for a cause, it has an even greater impact.
Thank you to VALOR for welcoming us on your ruck march, we look forward to the next one!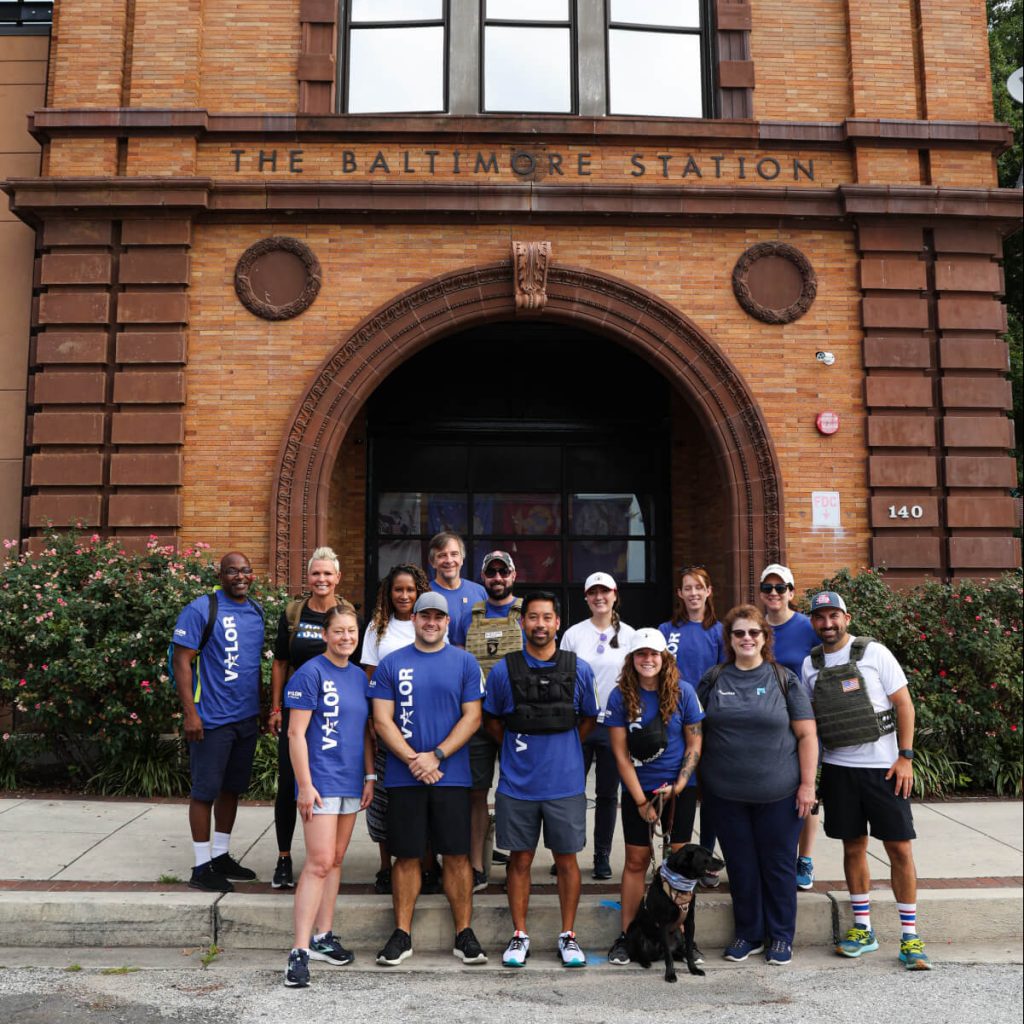 Need of the Week
As we welcome more men into our program, we work to ensure they have the clothes they need to feel confident and ready to accomplish their goals. We are in great need of pants (especially jeans) sizes 26-36 waist. If you have any pairs in that range new or used, please reach out to lfrazier@baltimorestation.org to schedule a drop-off time!
Thank you!