Here at The Baltimore Station, we are excited to welcome every friendly group that comes through our doors to offer their valuable time to the clients of our program. From school groups to seniors and corporate give back days to church volunteer events, The Baltimore Station has a wide array of volunteers that come to support our mission.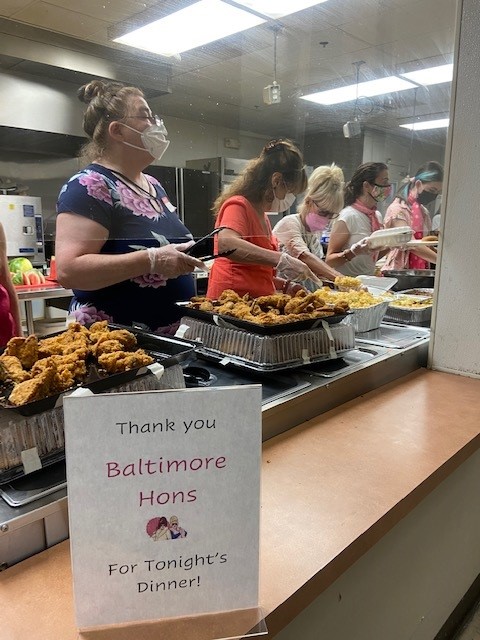 One of our long-term groups here is The Baltimore Hons. A group that celebrates the working women who put the charm in Charm City, and these women KNOW how to give back to a community. A few times a year these ladies, come to lift the spirits of the men here at The Baltimore Station. For the past 6 years they have brought plenty of delicious foods they know the men will love like fried chicken, macaroni and potato salad, rolls, mashed potatoes, basically all the comfort foods. In addition to a fabulous dinner, the women go into our dining room to hand out desserts for the men. Homemade cake, ice cream cups, watermelon, and cookies; all the favorites for any sweet tooth. Even dropping off hot meals through the back while we worked through the pandemic. As dinner comes to an end, they introduce themselves and usually sing a song or two to thank the men for all they have done for our country and remind them that they are appreciated. Our men are always so thankful for The Hons because they not only bring a meal but also an unforgettable energy that brightens everyone's day and keeps them smiling all night long.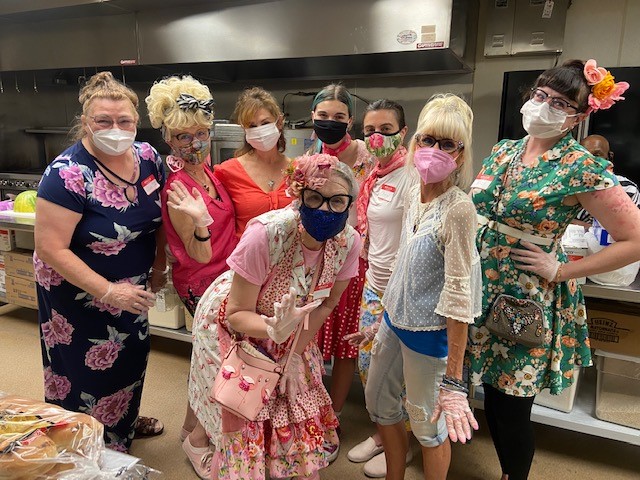 "Hon" short for Honey is a classic Baltimore term of endearment. It is used to reflect the warmth and kindness expressed to neighbors and visitors of our community. The Baltimore Hons group embody this spirit of warmth and kindness in everything they do.
The Baltimore Hons are so excited they get to celebrate Baltimore heritage as they bring back HONfest to an in-person block party once again! This year the HONfest will be back in the streets of Hampden on June 11th and 12th, and we know our volunteers from this amazing group will all be out continuing to spread that positive energy.
Thank you so much to The Baltimore Hons who support our Station and the rest of Baltimore. Good luck with the festival and hope to see you there, Hon.
Need of the Week
Hello all! Next Sunday is Father's Day. Here at The Baltimore Station, we will be celebrating with a Father's Day Brunch. If anyone would like to contribute, our kitchen will be accepting pastry donations of any kind on Friday (6/17) and Saturday (6/18) to help them celebrate. Please contact Lilly Frazier at lfrazier@baltimorestation.org to request a drop-off time. THANK YOU!