History of Play Ball Day
The days are getting longer, and the temps are getting higher. That can only mean one thing: IT'S BASEBALL SEASON!! Although by August, baseball season is already in full swing, August 1st marks Play Ball Day, a day to encourage children to get out and get involved in softball and baseball.
The day was started in 2015 by Major League Baseball (M.L.B.) and USA Baseball to encourage kids of all ages to engage and challenge themselves in a sport that has captured the hearts of Americans for years. Although the day is meant to inspire children to play ball, the game of baseball can bring positivity to anyone, no matter age, and remind everyone the importance of supporting each other as a team and believing in the power of a good game.
How Playing Sports Helps with Sobriety
Addiction and mental health issues can often leave those suffering with feelings of isolation and loss of power. However, creating a social network that supports their journey and promotes their goals can give someone the motivation they need to better their lives. Surrounding yourself with a team of supporters has a variety of positive effects, and no better way to start a team than to start a sports team.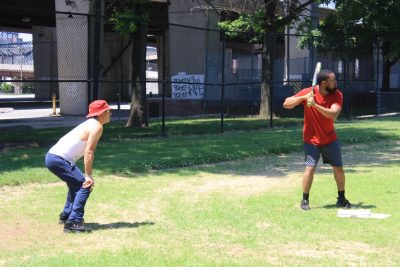 Here are some benefits for people in early recovery:
Improve social skills
Increase physical activity
Create an outlet for fun and relaxation
Build self confidence
Learn new skills
Staying involved in the community
At the end of the day, getting out and staying active gives all of us the opportunity to better ourselves no matter what we are going through and regardless of who we are.
The Baltimore Station and Sports
Outdoor sports have always been a huge part of The Baltimore Station treatment regimen and when the weather gets nicer, the men take any opportunity they can to get out and get active. Solo Gibbs Playfield, a recreation center right around the corner from The Station, has given the men of The Station a place to play for years. On nice sunny days, groups will go out to throw a football, shoot some hoops, and our favorite, play some baseball.
Earlier this summer, the Loyola Dons came out to show their support of the men at The Baltimore Station. They brought their baseball equipment, walked to the fields with us and mixed in with our population to create two full teams. And just like that, the game was on! Clients hit homeruns, staff caught balls in the outfield, Loyola students slid into to home plate, and everyone on the sideline cheered and yelled to "steal second!" and "go for home!". We love an opportunity to get out and play a game so thank you to Loyola for giving us that chance.
As huge Baltimore Orioles fans, we are always so happy when The Orioles welcome our men to Oriole Park at Camden Yards to watch a game or meet some of the players. This past weekend The Baltimore Station was honored for our work with homeless veterans at the game against the NY Yankees. Before the game, our men met pitcher, Keegan Akin, on the field for autographs and photos. After that, the men enjoyed the game from an Orioles suite and were recognized and celebrated on the jumbotron, holding the American flag. Thank you to The Baltimore Orioles for giving The Baltimore Station the opportunity to enjoy the game! Let's go O's!!
The men here work to support each other whether it be on their road to recovery or working through past traumas. The trust and respect they have for each other continues past the walls of The Station and often grows when they play America's sport, baseball, together. And even those who are no longer physical enough to play, show their support on the sidelines. You can hear them cheering on their fellow veteran and making sure everyone is staying hydrated. We have played ball here for years and look forward to continuing this tradition for years to come!
Need of the Week
Do you have a sports team looking to get some extra practice in before the next game? Or a group of friends just trying to play some outdoor sports? Consider coming to The Baltimore Station to play a game with the men! We have softball, basketball, cornhole, and flag football equipment. We just need a few volunteers looking for a fun way to give back. If you are interested in setting up a group, please email lfrazier@baltimorestation.org with some information about your group and when you would be interested in coming down!
Thank you!
Sources
"The Benefits of Team Sports for Sobriety." Real Recovery, 13 Oct. 2021, https://www.myrealrecovery.com/benefits-of-team-sports-for-sobriety/.